inside your living spaces
kitchen
The kitchen is that part of the house which has known the most transformations over time both as concerns its functions and technological evolutions. It is the living space which presents the highest rate of equipment. The kitchen has indeed wholly turned into a living space—it is everybody's place and that which has evolved into the dining room too. Whether it is still walled off or is an open kitchen-dining room; whether it's a three in-one: kitchen-living-dining or four in-one including the TV room, the kitchen is the axis around which life revolves. It is the nervous centre, the heart setting the pace, the time-keeper. Its interior architecture and decoration focus increasing attention and its values extend beyond functionality to embrace aesthetic and emotional values. This room now expresses not only lifestyle but also a whole new art of living.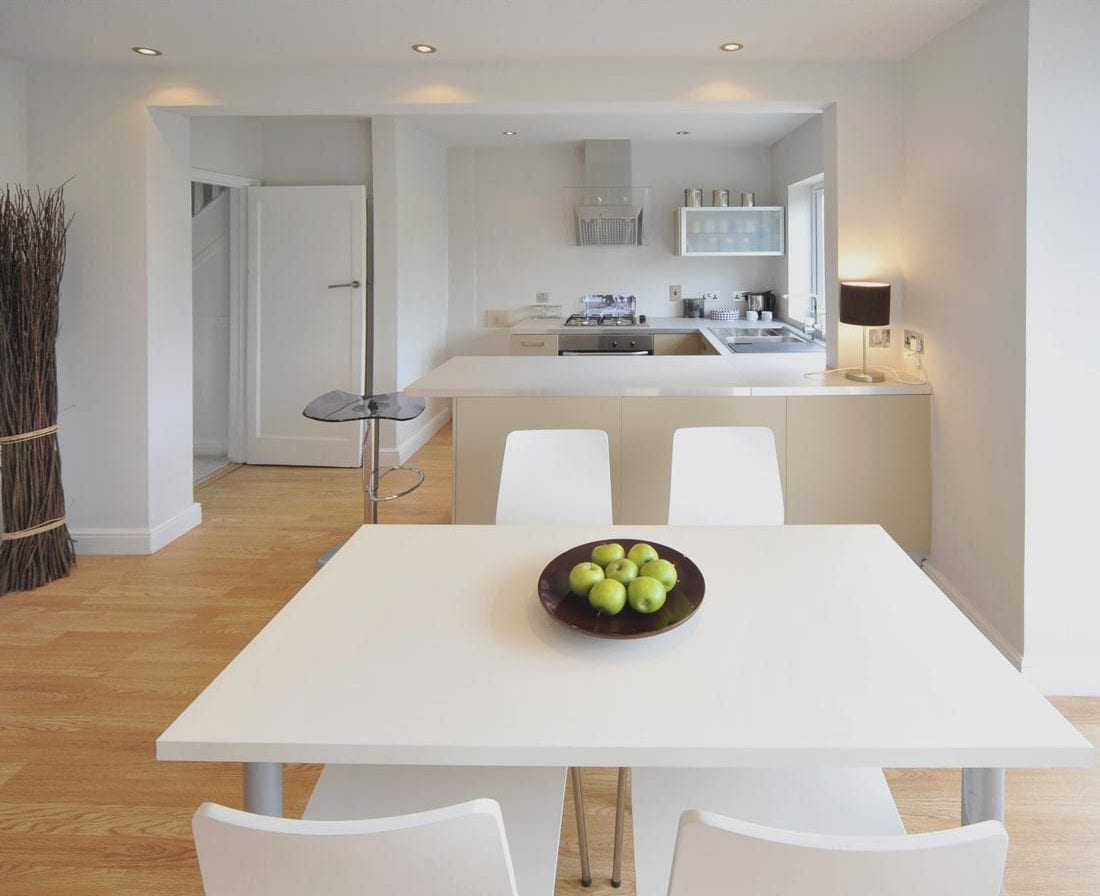 As concerns the choice of paint coating, we would recommend our two highly washable acrylic emulsions: VIP Satin and Cashmere. They offer a choice of 2 more or less brilliant finishing—satin or silky. If you would prefer a matt but however washable finish, the best choice then is Mauvitop. It is a superior pure acrylic formula with a discreet sheen. The topmost choice for the kitchen would be one of our high-tech paints: Wallsafe or Nanotech Antibacterial—they present extraordinary sanitizing capacities.
floor
Nowadays, floors are an integral element of an interior decoration plan. These surfaces therefore need to be addressed, dressed and decorated as such. We have a whole set of paints specially formulated for Floors. These are low-maintenance, highly resistant, water-proof and washable coatings. They definitely bring in a touch of originality to your decor. Decorative cements also offer highly aesthetic options to dress up your floors. Mauvilac represents an innovative and comprehensive brand of execution systems for their professional application.
metal
Decorative paints for metal are to be found under Metal Surfaces.
wood
If your woodworks require painting, you'll find everything you require in the conventional gloss, ecological lacquers and universal paint section under Metal Surfaces. If you wish to entertain the natural beauty of your wooden furniture, staircases or flooring—Woodlife is the specialised range you need for a variety of functional solutions.
don't forget!
Long-lasting finishes start with flawless surfaces. You will find all it takes in terms of products and advice in our Surface Repair, Treatment & Preparation section. Perfect execution requires appropriate tools too—we provide professional equipment for one and all: check out our Paint Brushes, Rollers & Accessories section.
you might also want to read
now is the best time to shop with us online.
Shop from anywhere
Shop directly right from where you are using your PC or smartphone. We bring the showroom to you
Store pick up
Order with us and get notified when your order is ready to be collected
Benefit from our loyalty program
Shop online and benefit from the rewards of our loyalty program